Pallet Racking Systems

Systems Design for all your Pallet Racking needs.
New Pallet Racking Systems supplied and installed.
EN15512 approved racking systems manufactured in Europe.
Approved pallet rack systems that provide the key benefits of
quality controlled construction, safe design and continuing availability of product.
Heavy duty pallet racking systems that conform with the latest safety standards.
Safely store pallets and heavy weight products in your warehouse premises.

As a long time supplier of pallet racking systems for over thirty five years,
we offer a wide range of new pallet racking systems and accessories to
help you make the right choice of pallet racking for your warehouse or stores.
From starter and extension bays to store smaller warehouse pallet quantities, through to multi-bay
and larger pallet storage needs, such as those required in distribution centres and large warehouses.
New pallet rack systems that are proven and tested to EN compliant standards, along with competitive prices and reliable service.

We cater for all types of orders from just a few beam clips to a full warehouse racking system, and can
fulfil large or small orders of individual pallet racking frames, pallet racking beams or pallet rack beam clips.
Warehouse barriers, racking guards, rack end protection barriers, pallet rack decking
pallet rack protectors, and many other pallet racking components and accessories, all available to buy at Systems Design.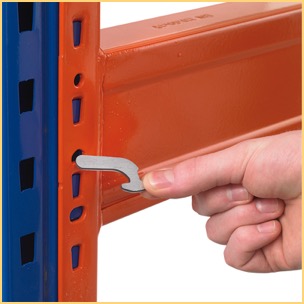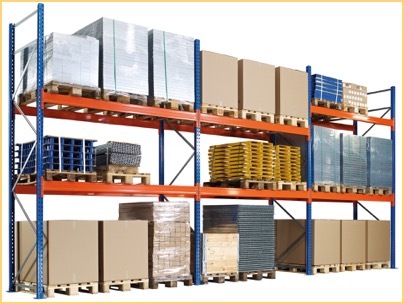 Systems Design supply and install Schulte Pallet Racking Systems throughout the UK and Europe.
Quality built, certified pallet racking frames and beams.
Store timber pallets, post pallets, large bulky goods, stillages, metal cages, furniture and even vehicles.

Pallet Racking from Schulte with the durable Blue and Orange finish,
a wide range of standard components and accessories quickly available.

One piece pallet racking frames from 2m high to 12m high
Frame loads from 4000Kg to over 24,000Kg that can handle
everything from light storage needs to heavy duty pallet requirements.
Pallet Racking beams in popular sizes:
1350, 1825, 2225, 2700, 3600mm.
Super strong 50mm box section racking beams with 5 prong welded connectors for extra security and stability.
Rack beam loads from 1600Kg to 4500Kg and more.

Pallet racking to suit most common pallet sizes and weights.
Other pallet racking frame heights and beams sizes are also available
plus extra heavy duty Pallet Racks and Cantilever Racking options.
Galvanised pallet racking and alternative paint finishes are available as extra options.

Quality assured EN15512 approved racking systems with a 3 year product warranty.
Quickly delivered and installed.

With fast quotes and quick deliveries; Schulte Pallet Racking products are designed to effectively meet all your pallet storage needs.
Please call 0844 247 1707 for further details.





For your free e-brochure e-mail us or call 0844 247 1707 today!

You can now buy some of our more popular sized pallet racking systems
online at the new e-commerce store