Industrial Workbenches

At Systems Design we are able to offer you a wide range of premium quality workbenches to suit most applications delivered directly to your premises.
A comprehensive range of Industrial Workbenches suitable for engineers, mechanics, production work,
assembly areas, test departments, in fact anywhere a professional workbench is required.
These workbenches stand out from the crowd due to their excellent build quality, wider choice of standard sizes, colours and accessories, backed up by a 5 year guarantee, short lead times, and select components from renewable sources.

Industrial Workbenches are supplied fully assembled ready to work.
14 different steelwork colour choices at no extra charge.
Choose a colour combination to suit your own Workshop.
Durable powder coating.
Exceptional load capacities to cover all types of work.
40mm solid beech worktops as standard,
with multiplex worktops, hard laminates, linoleum,
and steel topped workbench options also readily available.

Height adjustable workbenches, general purpose workbenches, basic industrial workbenches, heavy duty workbenches, engineers workbenches, workshop workbenches, garage workbenches, mechanics workbenches, mobile workbenches, workbenches with tool storage drawers, and industrial workbenches with cabinets underneath:
You will find just a small selection of these types of workbench here.
We would recommend you visit our sister site Equiptowork.com to see more of the workbenches for sale,
or contact us for more details on any of industrial workbench product categories.
For more details of these workbenches or any others from our comprehensive workbench range
contact us today on
0844 247 1707



Series 8000 Workbench
45 x 45mm square tube framed - premium workbench series
workbenches supplied fully welded and completely assembled
40mm solid beech worktops - as standard
750,1000,1250,1500 or 2000mm wide worktops
700mm deep or 900mm worktop depths
Overall 840mm high (plus height adjustable options up to 1040mm)
Storage drawers have 90% pull out extensions & roller bearing guides
Drawer capacities from 50Kg to 100Kg
ErgoScript® handles w/label strips- with soft closing option available
14 environmentally friendly powder coated colour options





Compact Workbench 750mm w x 700mm d + 3 drawers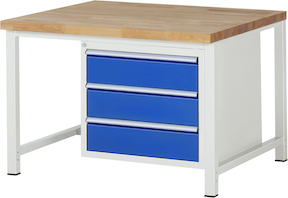 Small Workbench 1000mm wide x 700mm d + 3 L drawers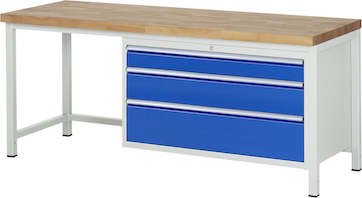 Large Workbench 2000mm w x 700mm d + 3 XXL drawers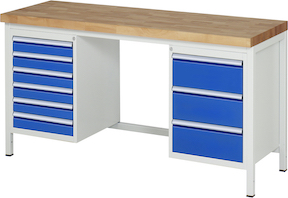 Medium Workbench 1500mm w + twin storage cabinets 1 x 3 drawer + 1 x 6 drawer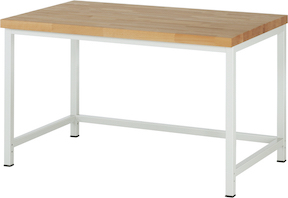 Basic Model Medium Workbench 1500mm w x 700mm d x 840mm h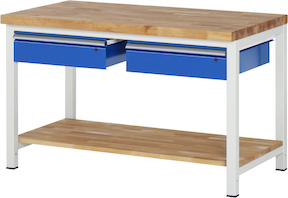 Medium Workbench 1250mm w + w/ 2 drawers + 25mm beech wood storage shelf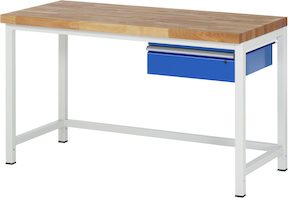 Medium Workbench 1500mm w + single drawer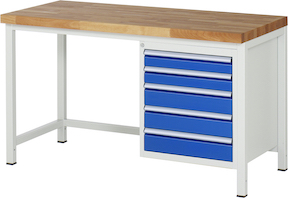 Medium Workbench 1500mm w + w/5 drawer storage unit





All of the above Industrial Workbench examples are available in any of the standard sizes 750, 1250, 1000, 1500 and 2000mm wide
and can be matched with any of the following
14 RAL colours and combinations for the frames and drawer housings
- for no extra charge-
RAL3000 fire red, RAL5002 ultramarine blue, RAL5010 enzian blue, RAL5011 steel black, RAL5012 light blue, RAL5015 sky blue,
RAL5018 turquoise, RAL6011 reseda green, RAL7031 blue/grey, RAL7035 light grey, RAL7045 slate grey, RAL9006 white-aluminium,
RAL9011 graphite or Anthracite metallic.

Please contact us either by email or call +44(0)1892 506892 for full details on any of our premium workbench range

Other Workbenches with the same top quality construction offered include
Workbenches with Electric Height Adjustment , Mobile Workbenches, Extra Heavy Duty Workbenches, ESD Workbenches, Worktables, Multi-Person Workbenches, Extra Long Workbenches
plus
a wide range of workbench accessories, including:
aluminium mounting posts for worktop mounted tool board back panels, tool holder hook sets, storage bins, overhead adjustable steel shelves, parts bin storage rails, lighting frames, CPU holders, bench top mounted and folding vices, protective rubber mats and clear worktop overlays.

Drawer accessories available include: rubber mats, metal and plastic drawer dividers, removable mini-compartment boxes, and tool organisers.