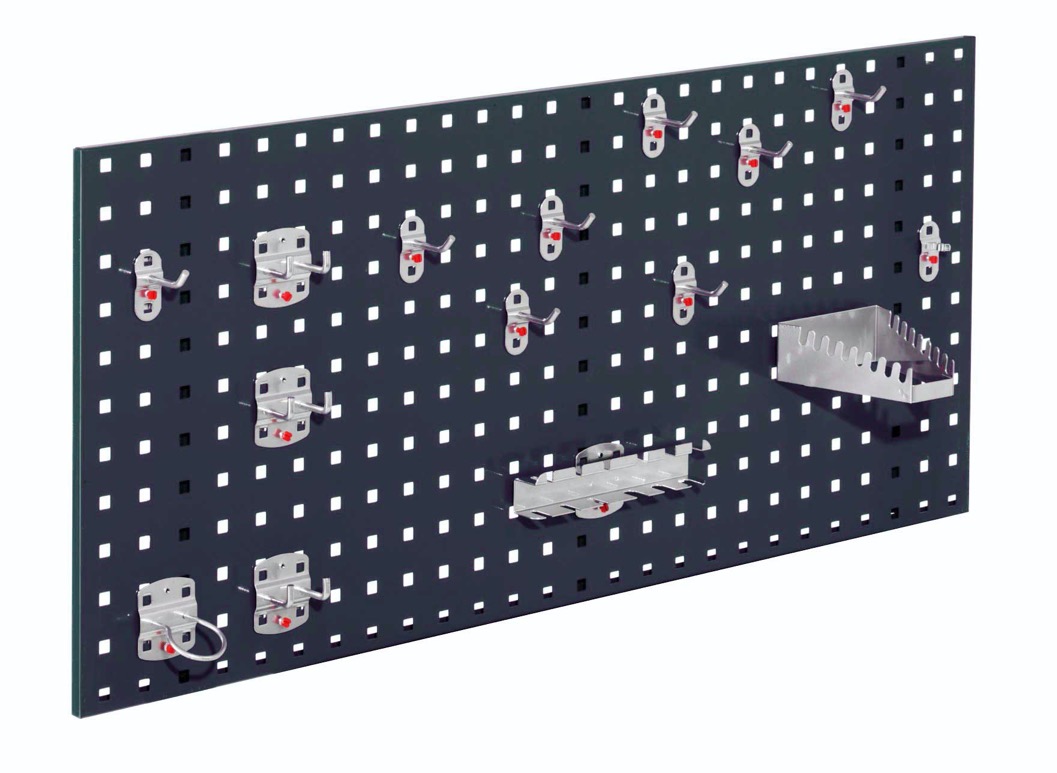 Tool Boards


Perforated Panels for storing tools and essential workplace accessories.
Top quality steel tool panels, with hooks, clips and retainers for fast access, easy identifiable tool storage
in the workshop, on the workbench, in the production area and other essential workplace departments.

The premium Kappes brand from Systems Design has a vast range of tool hooks and holders to match the
compatible Rasterplan tool storage boards in over
14 brilliant colours and four tool holder panel sizes.

Unique ABAX tool hook mounting system - for one step, quick and easy organising of workshop tools.
Welded and reinforced mounting sections for secure tool board wall storage and better load capacity.
Economical tool storage systems with flexible application possibilities.
Tool Boards mount on the wall for space saving and excellent organisation of tools and equipment.
Fully compatible with the Rasterplan louvred panels and parts bins.

Available in the following tool board panel sizes, for fast delivery from large stocks.
500mm x 450mm
1000mm x 450mm
1500mm x 450mm
2000mm x 450mm
Use vertically or horizontally in numerous combinations for full workshop coverage.

Rasterplan from Kappes the best quality tool storage system for rapid-access to tools and workshop essentials.

Click here for more details or call us on 0844 247 1707 for details

Buy the Best in Perforated Tool Panel Storage Systems online here!

The versatile range of Rasterplan Tool Boards, Hooks and Accessories can also be used with the
Rasterplan partition wall systems, free standing racks, tool storage cabinets and mobile tool trolley units
that are also available from Systems Design.