Parts Storage Bins


Top quality, industrial strength, parts storage bins and parts bins storage racks.
Superior small parts storage bins that are made to last.

Do you need to store small parts and loose components ?
Do you need a plastic parts bin that is built to last ?
Do you need a parts bin thats up to the job of day in, day out, rigorous workplace usage ?

Our plastic parts bin range from Kappes answers the demand for industrial quality in a small parts storage bin. These exceptional storage bins have reinforced base edges and thick side walls made using stable, shatterproof polyethylene designed to provide a durable parts storage bin with exceptional weight carrying benefits.
Resistant to oils, acids and lyes, Kappes parts bins can be used in extreme temperatures from-40º to +80ºC.
Small parts storage bins that wont flex or warp when fully loaded or when being used on louvred storage panels and storage racks.
These professional parts bins are considered the best available and the ideal solution for storing small parts, essential work components, workshop supplies, fixings, fasteners, medical and hospital supplies, electrical components, even food products.

Buy the storage bin that's suitable for the demands of the busy workplace.
Available in six outstanding colours and eight different sizes from ultra small parts bin sizes through to extra large storage bins of up to half a metre long.
Ergonomic finger position slots to aid handling.
Smooth side walls for easy cleaning and hygiene maintenance.
Suitable for feed and roller conveyors.
Superior construction and design for maximum stacking ability.
Heavy duty storage capacity; up to 40kg per bin on the largest Size 1 bin for example.
GS certified storage product, made in Germany with a 5 year warranty.


Fully compatible with the Rasterplan system of Parts Bin Louvre Panels, Parts Bin Storage Cabinets, Mobile Parts Bin Trolleys and Parts Bin Storage Racks.
Kappes Parts Bins can be supplied with optional transparent lids and plain white labels for efficiently organising your parts inventory.
Gripper rods and longitudinal dividers are also available to be retro-fitted to the larger storage bin models for added versatility and improved storage handling.

Environmentally friendly, fully recyclable plastic parts storage bins.
Quick delivery from large stocks.
Tough, long lasting, professional quality, small parts storage bins.
If you only buy one parts bin for your workplace, make sure it's a Kappes from Systems Design.

For a free catalogue and further details on these parts bins and the full Kappes storage product range,
call us today on 0844 247 1707 or click on the links shown.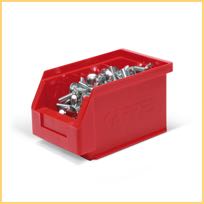 Click here to see further products from our Professional Parts Bins Storage Systems

Size Guide