Industrial Mats

Industrial workplace mats , anti fatigue mats, workshop mats with anti static properties. Systems Design has a select range of hard wearing industrial mats to suit most workplace needs.
Made from polyurethane or nitrile rubber. Ergonomically designed mats that subtly aid circulation and help reduce fatigue when working and standing at your workstation,
workbench, assembly line, sales counter or any other workplace area where standing for long periods is a must.
Helps insulate from cold surfaces.
Dissipate electro static charges in environments with ESD requirements.
Industrial mats with chemical, oil and temperature resistance.
Mats for wet drainage areas and mats with fire resistant properties.
Heavy duty workshop mats and anti fatigue mats.
Top quality, long lasting work mats made to last.
Standard cut sizes as featured with other dimensions also available on request.
The ideal product to compliment our workbench range




AIR - Industrial mat with a specially constructed flat Bubble mat surface that dampens and stimulates blood flow. Ergonomically approved design, cushions for superior comfort.

Use in wet & dry areas

Polyurethane

Dense outer layer

90 x 60 cm as standard

14 mm thick

ESD versions available

Anthracite

5 yr warranty

Applications: assembly areas, packing stations, sales counters, laboratories etc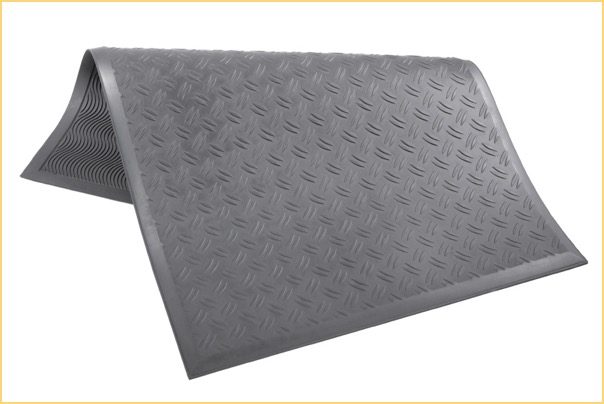 SOFT FIT - An industrial mat with a Chequer Plate style surface, easy to clean and suitable for light usage with trucks & trolleys. A mat suited to twists and turns when standing.

Use for both dry & wet areas

Polyurethane, very flexible construction

Slip proof base

90 x 60 cm as standard

12 mm thick

ESD & fire resistant versions available

Graphite Grey

3 yr warranty

Applications: Workbenches, work-stations, machinery areas, sorting areas etc



COMFORT - Nitrile rubber mat with all round capability. Very durable workstation mat, with resistance to oil, chemicals, and cooling lubricants. Small drainage channels. Yellow bevelled edge option.

Wet & Dry areas

Nitrile Rubber with flat bubble mat finish

Helps insulate from cold surfaces

90 x 60 cm as standard

14 mm thick

Heat and chemical resistant

Black or Black w/Yellow edges

5 yr warranty

Applications: Industrial usage, CNC milling, welding areas, machine shops, machinery areas, cleaning areas etc
WET DE-LUXE - A larger perforated mat made from nitrile rubber and suited to wet and dry areas where superior drainage properties are required. Grease and oil resistant

Wet & Dry areas

Nitrile Rubber with perforated surface

150 x 90 cm as standard w/large bevelled edge

14 mm thick

Skid resistant

Black or Red

2 yr warranty

Applications: Cutting areas, CNC lathing and industrial areas where fluids are used, food industry.
As well as the four mats featured here, we can also offer other sizes and types of industrial mat with the same outstanding quality and features to benefit production and reduce fatigue when standing in the workplace.
Buy select workplace mats from only £42 delivered + tax.


Click Here To Buy Industrial and Workplace Mats online