Accessories for Pallet Racking Systems

Floor fixings for pallet racking and shelving systems, floor bolts for all types of pallet rack footplates.
Latest SEMA guidelines are now stipulating all racking footplates are floor bolted.
Maintain the safety of your pallet racking system with correctly installed fixtures and fittings.
Pallet racking beams, beam clips, racking frames, frame braces for racking parts for damage repairs
are always available for many leading makes of pallet racking.

In addition to pallet rack components and accessories for Schulte Pallet Racking systems,
we also offer accessories for some other rack makes, including:
Dexion, Planned Storage, Hi-Lo, Link 51, Stow, AR Sistemas pallet racking systems.
Call us today on 0844 247 1707 or email us for further details.


.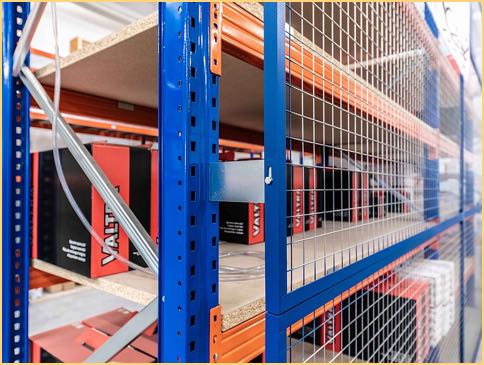 Pallet Rack Decking

Chipboard Support Bars and Pallet Support Bars, to support heavy loads on
chipboard decks and reinforce larger board sizes.
Steel support bars to help with handling heavy pallet loads on pallet racking beams.
Galvanised flush fitting support bars and heavy duty channel section bars for
commonly used frame depths 800, 900 and 1100mm deep.

Timber Decking and heavy duty chipboard shelves for pallet racking systems are
always available to buy in cut sizes to suit specific racking systems.
Chipboard and slatted Timber decks are a cost effective method to store loose items,
non-palletised goods on pallet racks or support loaded pallet storage levels.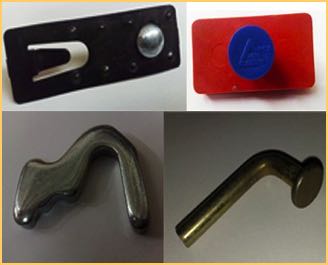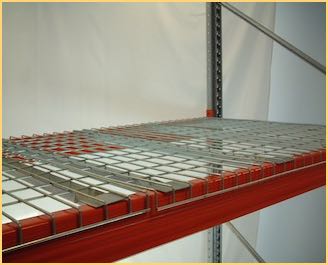 Mesh Decking and Safety Locks for Pallet Racking and Shelving

Mesh Decking for Pallet Racking and Shelving

Systems Design also provides Steel Wire Decking for most makes and sizes of pallet racking.
Cost effective and robust pallet support, with heavy duty loading ability.
Wire mesh decking is often recommended in high risk warehouse areas by insurers,
as the mesh deck design enables full saturation from sprinkler systems, wire mesh decks
are also less combustible than wood or plastic based alternatives.
We also offer solid steel panels and grated mesh shelves to create sturdy steel platforms
to store non-palletised items on pallet rack beams and heavy duty shelving systems.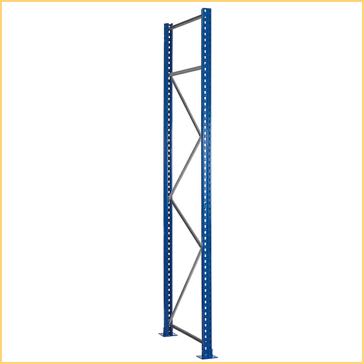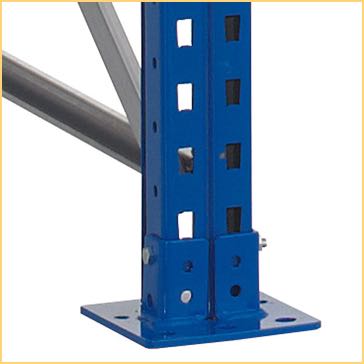 Pallet Racking Safety Locks: Pins and Clips

Pallet racking beam safety locks, beam locking clips and pins for most leading makes of pallet racking:
Schulte
plus Dexion, Stow, Link 51, Hi Lo, PSS, AR Sistemas.
Essential accessories for safe warehouse storage.
Not sure which beam lock you need?
Just email a picture of the racking system you use and we will help identify the correct beam lock for your rack system.
We also supply pallet racking footplates, levelling shims, racking bolts & braces,
spares and components for many other makes of pallet racking.
Keep your warehouse staff safe and compliant, only use new proven pallet racking components in your racking system.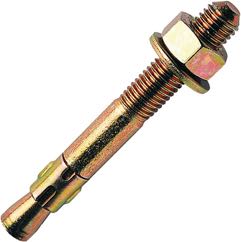 Buy EN approved pallet racking and accessories here

Do you need other types of pallet racking accessories?
We also supply pallet rack leg protectors, racking end protection barriers
row spacers, rack ties, anti-collapse mesh, safe working load signs
and warehouse labels for racking and shelving systems.
Contact us today for your free, no-obligation quote on 0844 247 1707