Workshop Drawer Cabinets

Premium quality storage drawers and cabinets for industry and professional workshops.
Get maximum storage density and space utilisation with workshop drawer cabinets,
organise and store tools parts and valuable components efficiently, effectively.

Outstanding storage and production equipment, from a new purpose built low energy facility.
10 year quality guarantees and GS-TUV approval on the most popular model range provides the assurance that you will be buying
a high quality storage system, built to last and with the back up service that can only be supplied by a long standing manufacturer.

We can supply a single workshop drawer cabinet or provide professional installation, drawing and 3D planning services for larger projects.

All workshop cabinets are available in a choice of 15 different, durable, hammer finished RAL colours for
housings and drawer fronts, and in any combination for no extra charge.
Standard features include:
100% drawer pull outs for maximum access
Roller bearing drawer guides
Anti-tilt drawer mechanisms
Central Locking systems
Robust re-inforced frame housings
Generous drawer sizes and loading capabilities from 50-300kg per drawer
Pre-formed drawer slots for dividers
Galvanised or powder coated drawer internals
Integral aluminium drawer handles
Soft Closing Option for each tool storage drawer
Cabinet housings and drawer profiles to suit your own personal drawer cabinet preference.


There's a whole host of accessories to further enhance and individualise your storage drawer system, ranging from electronic lock and card opening options, metal and ABS drawer dividers,
tool holders, small parts bins and troughs, pallet truck plinths for transporting the drawer cabinets, all the way through to complete tool systems for every drawer if required.

Please contact us for full details of all the available workshop drawer cabinets and workshop drawer accessories
on 0844 247 1707 today.

Available in two main Drawer Cabinet depths the T500 and T736 series

Drawer Heights available for both cabinet sizes are:
75,100,150,200,250 and 300mm in any combination to suit your preferred drawer cabinet height

T500 drawers have 50mm pre-formed slots for dividers and accessories
T736 series drawers have 25mm pre-formed slot grids



T500 series Workshop Cabinets: All models in this series have a 500mm deep cabinet housing and a drawer depth of 400mm with a choice of three cabinet widths as standard:

R18 - 16 is 530mm wide
R24 - 16 is 680mm wide
R36 - 16 is 980mm wide

All workshop drawer cabinets in the T500 series are available in different heights, ranging from 469mm high to 1319mm high and with a choice of drawer height configurations.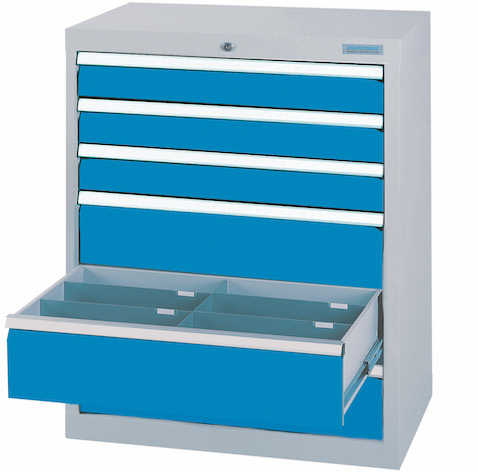 T736 series Workshop Cabinets: All models in this series have 736mm deep cabinet housing and generally a drawer depth of 600mm with a choice of four unit widths as standard:

R18 - 24 is 555mm wide
R24 - 24 is 705mm wide
R36 - 24 is 1005mm wide
R48 - 24 is 1305mm wide

Drawer cabinets in the larger depth T736 series are also available in different heights, ranging from 519mm high to 1519mm high and again with options for multiple drawer height profiles to suit each cabinet housing .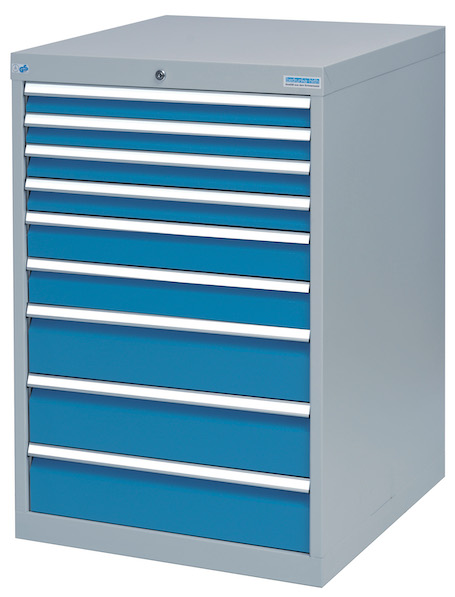 Click on either of the above 2 images for further information on Workshop Storage Cabinets
and other industrial furniture products available at Systems Design from Bedrunka+Hirth